The RV1S9260A 15Mbps communications coupler and RV1S9213A intelligent power module driver use LSSO5 packages with a 0.65mm pin pitch. With a package height of 2.1mm, the parts can be directly mounted on the backside of a PCB, freeing up space for topside mounted components.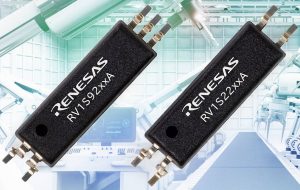 Three times infrared reflow soldering provides improved flexibility, the manufacturer says. The RV1S92xxA photocouplers' electric isolation and CMR noise rejection (50kV/µs) protect low voltage microcontrollers and I/O devices from high voltage circuits when transferring high-speed signals.
The RV1S2281A and RV1S2211A are dc input and low dc input, transistor output photocouplers, and the RV1S2285A is an ac input, transistor output coupler. The RV1S22xxA devices also provide 8.2mm creepage distance, 2.5mm package width and 2.1mm package height.
They come in LSSOP packages with a 1.30mm pin pitch. All five photocouplers deliver 5000Vrms reinforced isolation and high temperature operation, designed to operate in harsh environments. The RV1S92xxA and RV1S22xxA photocouplers support 200V and 400V systems with reinforced insulation.
All five devices adhere to the UL61800-5-1 standard for motor drive equipment, and the UL61010-2-201 standard for control devices such as PLCs.
"The RV1S92xxA and RV1S22xxA photocouplers give designers a variety of functions and the layout flexibility to significantly reduce equipment size and maximize factory floorspace," said Philip Chesley, vice president, industrial analog and power business division at Renesas.