Redmi, a subsidiary of Xiaomi, has teased the upcoming Redmi K30 series again this afternoon (3rd December 2019). This time, the company went on to mention the handsets networking prowess. On the official Redmi Weibo account, the Redmi K30 was seen alongside certain details regarding the new 12 antenna designs.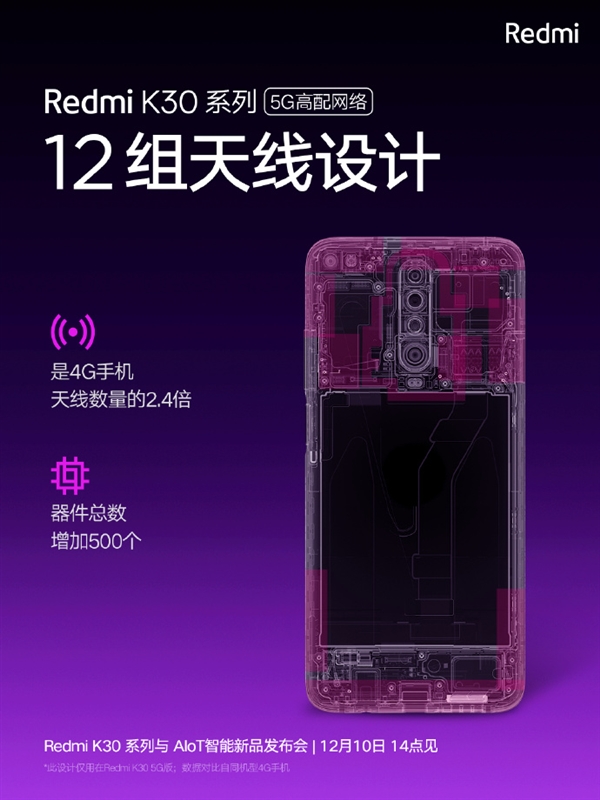 According to the post, the upcoming Redmi K30 series has its networking capabilities improved upon over its previous entry in the series. Reportedly, the whole set of 12 antennas is 2.4 times the number that is found in 4G smartphones. It is also mentioned the company is now using a new structural design and complex RF solution to make 5G signals stronger and much more stable.
Previously, it has already been confirmed by officials that the Redmi K30 will be equipped with Qualcomm's latest 5G processor which supports SA and NSA dual-mode 5G. The exact name of the processor is currently unknown but is likely to be a 5G SoC from the Snapdragon 700 series family. The Redmi K30 series is expected to be officially unveiled on 10th December 2019 and will be the first of the ten 5G smartphones from Xiaomi.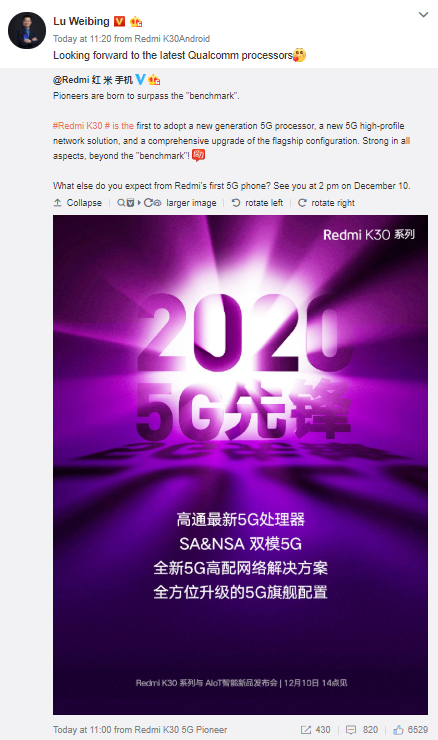 Notably, the Redmi K30 series will also be the first 5G smartphone launched by the company. Thus, staying true to its slogan "5G Pioneer." Additionally, the device is expected to follow the philosophy of its predecessor, Redmi K20, by delivering high performance at a reasonable price. In other words, the company will provide top-notch or even flagship-grade specs on a medium segment budget. However, we will have to wait for official announcements before making concrete confirmations.
UP NEXT: China now requires smartphone users to provide facial data to the Government