NBA 2K20 update 1.10 is officially live, with new hairstyles, fixes to reduce latency and more. Patch 10 may not feature many of the gameplay tweaks or speed adjustments players are looking for, but there's just enough here for NBA diehards to obsess over. Read the full patch notes courtesy of an official NBA 2K Facebook post.
NBA 2K20 Update 1.10 Patch Notes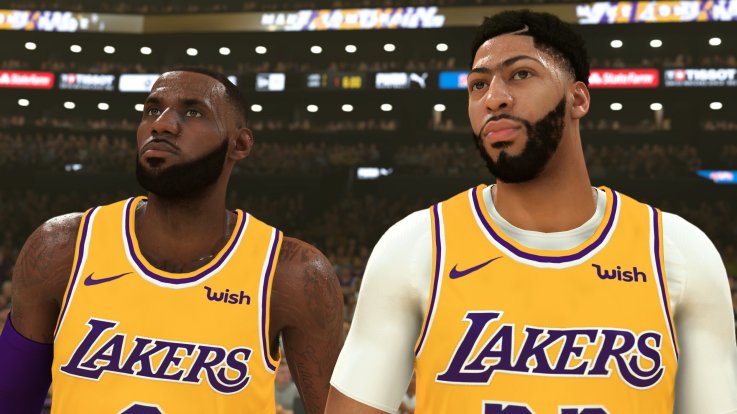 The following players have received Hair updates to reflect their latest real-life look: D'Angelo Russell, Austin Rivers, Nerlens Noel, Robert Covington, Jrue Holiday, Kelly Oubre Jr., Myles Turner, Marquese Chriss, Devonte Graham, Jordan Poole, Cody Martin, Terance Mann, Rondae Hollis-Jefferson.
The Duo overlay will now properly show badge upgrades in MyTEAM.
Button latency has been reduced when playing Pro-Am games, resulting in a more familiar user experience.
Addressed reported concerns where users could walk onto the court in specific Neighborhood games.
The main feature for this update is, of course, the updated hairstyles, some of which have been outdated since the game launched last September. As one of the premier basketball sims, it's nice to know the team at Visual Concepts still takes its pledge to accuracy and player-model realism to heart. While it may have taken a while for the work to actually get done, the results are just as pristine as league enthusiasts expect them to be.
On the tweaks and fixes side, there are changes both listed and unlisted worth discussing as well. With regard to button latency, players have long complained about how long it takes for jumpers to register using the shot meter. At least in certain modes, update version 1.10 should go to great lengths to address this. Another major exploit that has apparently been softened is player reliance on behind-the-back passes for easy buckets. It's still possible to use them, but defensive maneuvers are far better at stopping them as a cheese mechanic. In other words, newcomers will have to devise a better strategy to have a chance against the title's elite ballers. While there's not too much listed here, NBA 2K20 Patch 10 does just enough to satiate the game's hardcore community.
NBA 2K20 is available now on Xbox One, PS4, Switch, PC and Stadia. Update 1.10 is rolling out on all platforms for which the game is available.
What are your thoughts on NBA 2K20 update 1.10? Have your latency issues been resolved? Tell us in the comments section!