Mario & Sonic at the Olympic Games Tokyo 2020 releases November 5, and its competing to be the gold-medal party game of the year. The game has enough content where it almost feels like four games in one. Between 3D and 2D events, there is also a full story mode and three dream events to test your Olympic game skills in a fantasy environment.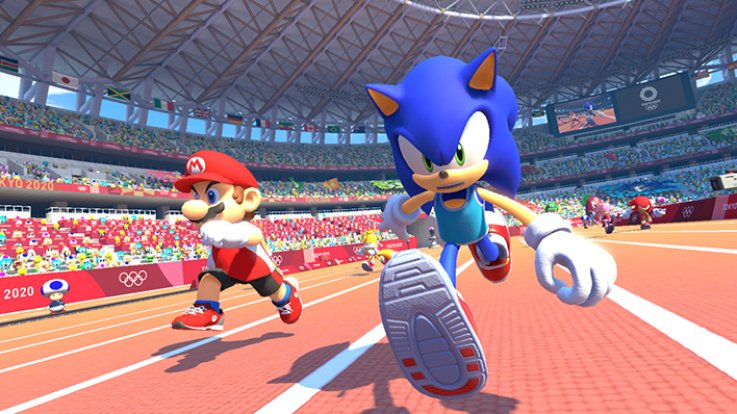 In a first for the Mario & Sonic Olympic series, the latest game features an all-new Story Mode. In another attempt to foul Mario and Sonic, Bowser and Dr. Eggman team up to create a new console, the Tokyo 64, which inadvertently takes our heroes back to the 1964 Olympics. While there, they must compete in 2D versions of some classic events to return to the present day. Story Mode is packed with a variety of 2D and 3D events, mini-games, unlockable guest characters and even Olympic trivia. The 2D events are another first for the series, which will surely be a favorite part of the game for many. Especially for local competition, these simpler 2D events offer plenty of replayability, as well as some laughs thanks to the classic sprite animations of its lovable cast.
Story Mode provides a new way to play every available action in the game. However all 10 2D and 21 3D events will be unlocked from the get go. New sports making their debut into the Tokyo Olympics will also be making their way into Mario and Sonic. Surfing, Skateboarding, Karate and Sport Climbing provide even more sports than the previous titles' 17 events. Skateboarding is definitely a highlight of the new additions, and its fun to watch Bowser grind and land some sick tricks.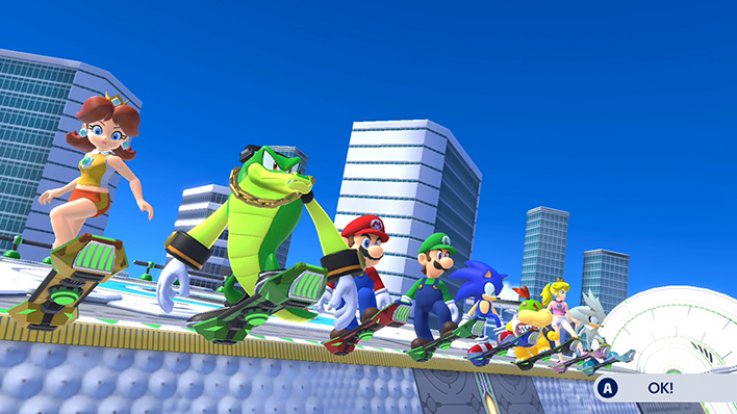 Mario and Sonic boasts a huge roster of characters right from your favorite Sega and Nintendo families. Twenty athletes from Luigi and Bowser Jr. to Knuckles and Shadow are at your disposal, with even more guest characters to be unlocked via Story Mode.
To truly get the most out of this package, it's going to come down to actual matches. Depending on your choice, you can play with up to four players locally, or up to eight if connected online via a Nintendo Switch Online membership. Playing locally is more enjoyable, of course, as you can see the reactions of your opponents when they only get the Bronze. This fighting spirit reveals itself once players find where they excel most. Prior to the start, you're offered the option of using button or motion controls, which ensures that anyone regardless of skill level can pick up and play. Motion controls offer more of a challenge, using the Joy-Con to mimic the actual event you're playing. Just be sure to give yourself ample room when throwing a javelin.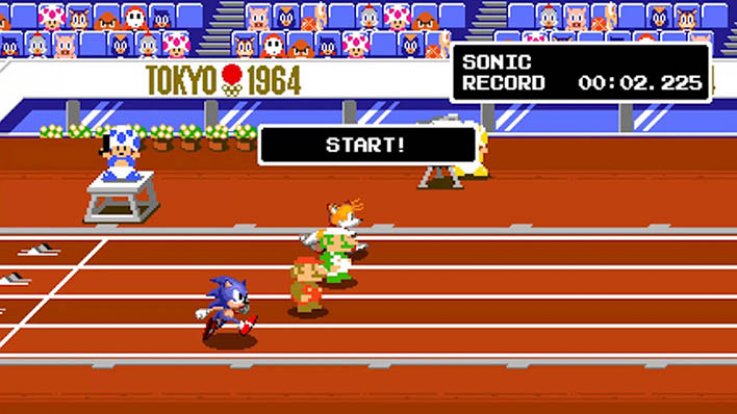 If you've never played a Mario and Sonic title in the past, this may be the one to pull you in. With so many events and ways to play, the rivalries should keep your friends coming back again and again to take home the gold. Which new sport are you most excited to tackle?