Kingdom Hearts 3 update 1.09 has just gone live on PS4 in preparation for the game's upcoming Remind DLC release in a handful of hours. The 9GB download features plenty of content for all players, however, including new Keyblades, ability changes and more. Read the official patch notes below released alongside the update.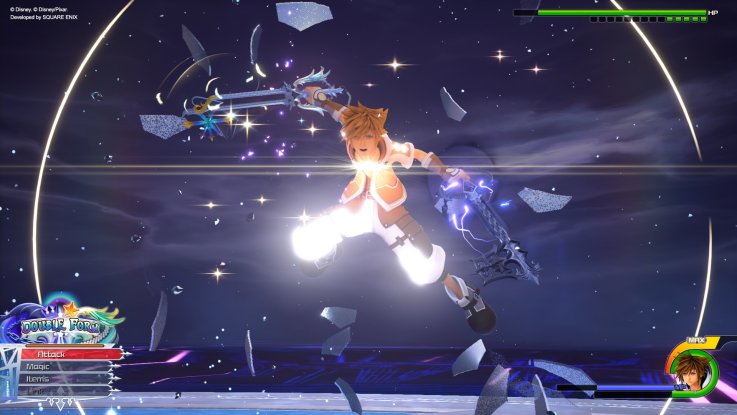 Kingdom Hearts Update 1.09 Patch Notes
You can turn in the Key Item Proof of Promises at the Moogle Shop to obtain the Keyblade "Oathkeeper."
You can turn in the Key Item Proof of Times Past at the Moogle Shop to obtain the Keyblade "Oblivion."
New forms have been added.
New abilities have been added.
Various menus have been updated.
Some cutscenes have been modified.
Various issues have been fixed.
The biggest change featured in these patch notes, of course, are the two returning Keyblades. For those wondering how to unlock them, Proof of Times Past is offered for completing the game in Critical Mode, while Proof of Promises is the prize for taking photos of all 90 Lucky Emblems. Use our Critical Mode and Lucky Emblem guides if you'd like more assistance getting those tasks done.
Alongside the new Keyblades, players will also be able to see new Formchanges and abilities not previously available in the original game. Forms called Light Form, Dark Form and Double Form will be triggered as Sora continues to whack at Heartless threats with the new blades. As for the new abilities, we imagine our protagonist might also retain some classic skills to coincide with the retro feel of these fan-favorite weapons. There's obviously lots of talk about those mysterious cutscene modifications too, but we imagine, if anything, those may involve slight teases for Remind for those who've yet to experience the DLC. There might, for example, be small tweaks made to events happening in the background to suggest the plot contents of the new story.
While Kingdom Hearts 3 update 1.09 may not be the single deepest update offering the game has seen to date, there's a decent amount here considering a big DLC deployment is just a few hours away. Thanks to this neat little download, even those who don't have $30 today might still have something to mess around with. Those pesky Proof items have mystified players for months, and now we finally know what they do.
Kingdom Hearts 3 is available now on PS4 and Xbox One. The 1.09 update will release on both platforms.
What are your thoughts on Kingdom Hearts 3 update 1.09? Have you unlocked Oathkeeper and Oblivion yet? Tell us in the comments section!